This bar will take you where you want to go after you are done with this page.
Click here to go back
---
Everything you need to make professional-type repairs
Part No. 3075 Extra Bag of (50) 3/4" Plugs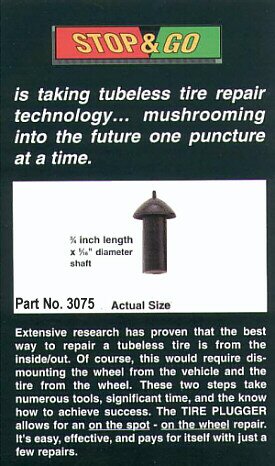 Tire Bead Breaker

Down in the racing pits? Out on a deserted highway?Back in the service area? This the tool for all occasions. Whether you are faced with making a repair or just changing tires this is the tool. All on-road and off-road motorcycle tire beads can be easily separated from their wheel with this sturdy cast iron alloy device. As you torque a 21mm open end or adjustable wrench on the spreader assembly the two hinge ears apply even pressure to the tire bead. Then it releases from the wheel. Each Tire Bead Breaker comes individually packed with full instructions in a corrugated carton that may be stowed away on-board if you desire. It can also be disassembled for easier portability. Satisfaction Guaranteed. Part No. 4000

Return to Previous page
---
Specification and prices subject to change without notice.
Warranties will be handled by respective companies.
---
Marlin's Motorcycles
Call 1-800-777-5543