This bar will take you where you want to go after you are done with this page.
Click here to go back
---
Free
Bargain Bulletin
Read This Click Here
---
Lazy Rider Cycle Bag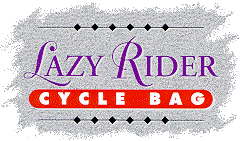 Check out my Lazy Rider Cycle Bag.
Part number ( 1998 Lazy Rider Cycle Bag ) Cost $179.95. Plus Shipping
---
F 0 B Ferndale Mi.
Warranties will be handled by respective companies.
We reserve the right to correct pricing in case of typing errors or pricing changes
---
This is a secure site
This button will open a new window that you can use to order from any page.
---
This button does not work in IE 4.0 earlier version, It does work in Windows 98
---
Click on back button to return to Previous page
---
Marlin's Motorcycles
Call 1-800-777-5543


0000">Click on back button to return to Previous page
---
Marlin's Motorcycles
Call 1-800-777-5543