This bar will take you where you want to go after you are done with this page.
Click here to go back
---
Free
Bargain Bulletin
Read This Click Here
---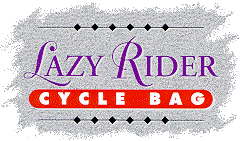 To: Cruiser Bike Riders
Only once in a blue moon a new product comes along which actually enhances the pleasure and enjoyment of riding a Cruiser Bike, be it a Harley Davidson, Honda, Suzuki, or Kawasaki. Our product, the Lazy Rider Cycle Bag, does just that. The whole purpose of the bag is to relieve back stress and strain while riding a motorcycle and at the same time give the rider more stability.
This product is primarily an upper and lower back support unit which also can be utilized as a nice piece of luggage. It was designed to be used with cruiser bikes, and no, it will not work on "crotch rockets." The shell (an inner bag) is barrel shaped and is made from a extremely rigid and durable nylon re-enforced plastic. The barrel is covered with simulated leather (top quality marine vinyl) with hidden (covered) marine zippers at both ends to allow easy access to the contents of the bag. I can't say that the bag is completely water resistant, but I have been in some really bad rain storms and nothing has ever gotten damp. Located on each end of the bag is a large pocket for gloves or numerous other items including coke cans, etc. . The backrest is composed of a high quality sponge covered with a breathable plastic-nylon webbing to give upper back support without getting hot or sweaty. There is a lower lumbar roll attached to the bottom of the backrest pad to give support to the lower (lumbar) back region. This entire backrest is adjustable so that it contours to the seats shape and the tallness of the rider. There are two D-rings attached to the bottom on each end of the bag for tie down purposes. Use the enclosed bungee cords to quickly tie down the bag to the motorcycle, adjust the backrest support up or down for your comfort, and you're off for a great new experience in riding comfort.
Another great feature of the bag is the enhancement of stability while riding your bike. With the rigid back support you have much better control when braking or making quick maneuvers.
I have been told of other ways riders have used the Lazy Rider Bag. Some say they simply remove the back support pad and use the lumbar roll as a pillow while resting at park benches, etc. Others have stated that the bag can sit on its end and be used for a stool while making adjustments to their bike or even at social events. Did I mention the bag has a handle so that it may be carried with ease into a motel or whatever?
I can only give you my word as a Harley rider, a HOG member, and an honest citizen that the bag is truly as I have tried to describe and present it.
The bag comes with a full one year guarantee warranty for workmanship, i.e., if a zipper should break or something comes unsewn. It will be our option to either repair or replace the defective part of the bag.
Don "Lazy Rider" Hood
Good News! Our great product, the Lazy Rider Cycle Bag, has just gotten better. Check it out click here to see more
---

A Note from the Designer
---
---
Return to Previous page
---